I'm going to try to do a post once per month detailing my current iPhone homescreen. If it works out well, I might also do one a month for the iPad as well. Below is a screenshot of my current homescreen.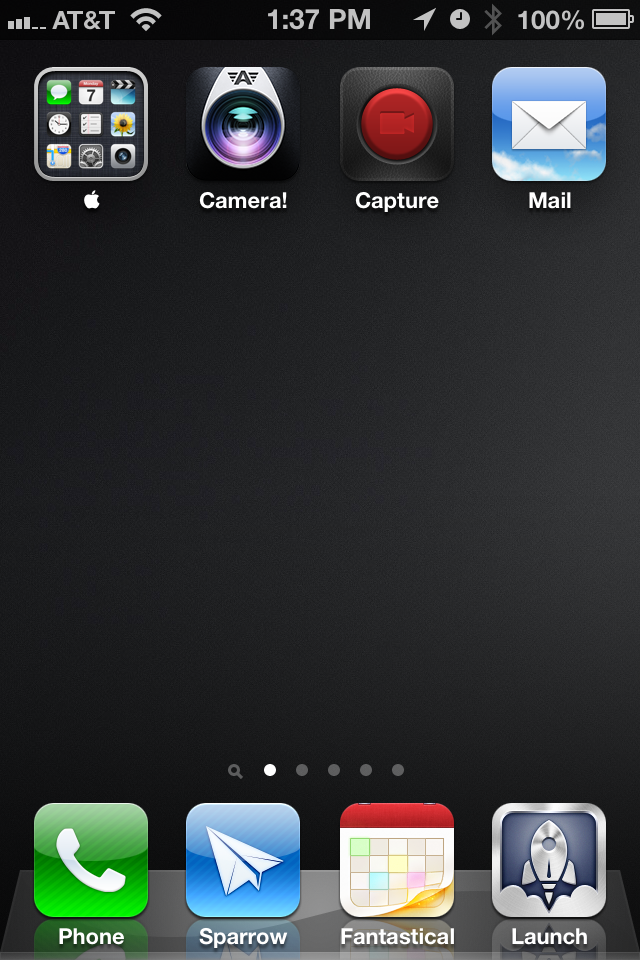 Some of my favorites
Apple folder
Not a whole lot to note in here. This is just a quick collection of the stock Apple apps. Mostly, it's a place to quickly get to SMS, settings, the App Store, and Mobile Safari.
I'm using this one in place of the stock Apple camera app. It's fast and has a nice set of features, including big button (turns the entire screen into the shutter button) and burst mode. I used Camera+ for a long time, but lately it has become very slow to load and crashes a lot.
Great utility app that does one thing well: launches a video recorder fast.
Mail
Need this one for work, since Sparrow doesn't support exchange accounts.
Dock
Phone
Does its job very well. I have no complaints.
So far, the absolute best iOS mail app I have used. Sparrow still receives periodic updates, even though it isn't getting any further feature development.
Agenda used to occupy this spot, but Fantastical introduced some very thoughtful UI around the calendar, and it has the best blend of features and functionality I have seen.
Many posts have been written about how great this app is. I use it to get to everything else on my phone. It has replaced 3 rows of apps on my homescreen. The custom action support is awesome.